Premium Bucks Fizz

Zesty sparkling orange fruit cocktail. This is a low alcoholic sparkling wine that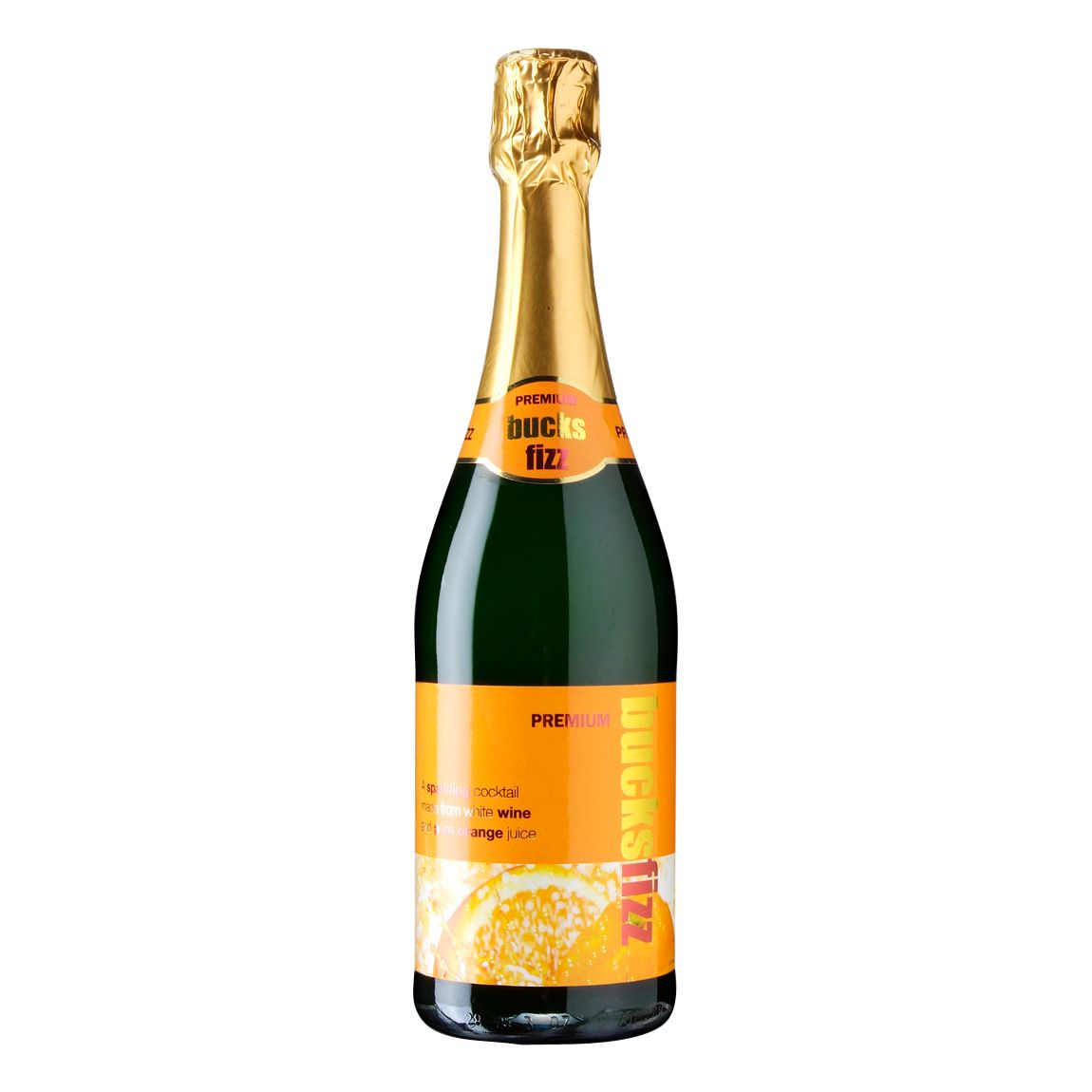 $30.00 Champagne Oudinot Vintage - Single Bottle
Case includes: Product information: Oudinot Vintage Champagne, Vintage:2006, Rich full-flavoured vintage Champagne with a biscuity, buttery aroma, and long fruity finish. A fine mousse and good acidity add finesse and crispness., About this bottle:Produced from Chardonnay grapes grown in the prestigious Côte des Blancs area of the Champagne region. This wine shows the depth and refinement of a Champagne matured for at least three years in the Oudinot cellars before release. , Grape Variety: 100% Chardonnay, Country of origin:France, Region:Champagne, More information: Bottle size:750 ml, Alcohol content:12 %, Alcohol units per bottle:9.0, Alcohol units per serving:1.5, Serving Size:125 ml, Allergens:Sulphites, Stopper type:Natural Champagne-Style cork , Consume Within:36 months of purchase Marks and Spencer
Zesty sparkling orange fruit cocktail. This is a low alcoholic sparkling wine that
---
Where to Buy Online
Click on the shop name to visit their website and buy this product (cheapest price in red).
(note: Please make sure you double check the product details on the shop's site BEFORE you order the Premium Bucks Fizz and also read our Accuracy of Product Information statement below. )




This product was originally available from but may either be out of stock or no longer available. They may still have a similar product though.

Similar products may also be available from the following websites:


---
Champagne Oudinot Vintage - Single Bottle
Case includes: Product information: Oudinot Vintage Champagne, Vintage:2006, Rich full-flavoured vintage Champagne with a biscuity, buttery aroma, and long fruity finish. A fine mousse and good acidity add finesse and crispness., About this bottle:Produced from Chardonnay grapes grown in the prestigious Côte des Blancs area of the Champagne region. This wine shows the depth and refinement of a Champagne matured for at least three years in the Oudinot cellars before release. , Grape Variety: 100% Chardonnay, Country of origin:France, Region:Champagne, More information: Bottle size:750 ml, Alcohol content:12 %, Alcohol units per bottle:9.0, Alcohol units per serving:1.5, Serving Size:125 ml, Allergens:Sulphites, Stopper type:Natural Champagne-Style cork , Consume Within:36 months of purchase Marks and Spencer
---
---
Accuracy of Product Information
All product features, images, prices and other information published on our website have either been made accessible by suppliers or been gathered from public-domain sources. Advanced System Technologies Ltd. makes every effort to ensure all information on this website is as accurate and up to date as possible. However, Advanced System Technologies Ltd. cannot guarantee the reliability or the accuracy of the information contained within its pages. All the actions taken by the user of the website are the responsibility of the individual.

---
Copyright © 1999,2014 Advanced System Technologies Limited. All Rights Reserved.
All information on this site is presented as a guide. Advanced System Technologies Ltd. accepts no responsibilty for the accuracy of any information contained on the pages within this site.
The CompareStorePrices.co.uk device is a registered trademark of Advanced System Technologies Limited.
All other trademarks and devices are the property of their respective owners.