Cristal Louis Roederer 2002 Vintage Champagne Gift

A truly succulent and powerful champagne made only in the best years from the finest fruit and top v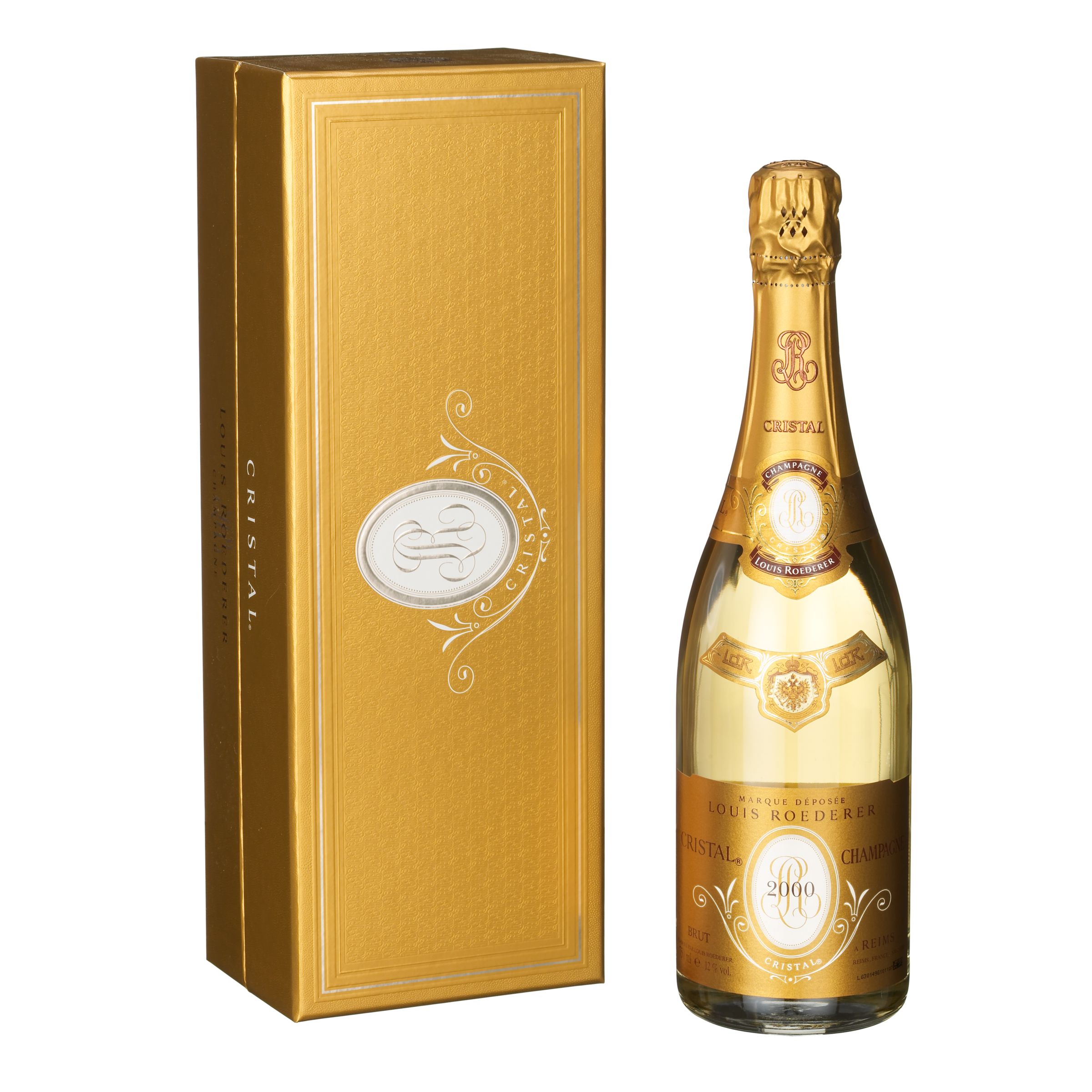 $514.95 Louis Roederer 2005 Cristal Brut Rose Champagne - 750ml
WE 96 Pts - According to Wine Enthusiast - A beautifully balanced wine that exudes elegance as well as richness. It is drier than previous vintages of Cristal Rosé, yielding a bright, crisp and layered wine. Red fruits are married with orange zest and tight acidity. It can be drunk now, but it is a young wine and will certainly age well through 2022.  Winemakers Notes - This wine has a pale pink color, with youthful bluish highlights and fine, regular bubbles. There is an intense, pure Pinot Noir bouquet, offering an explosion of red fruit, with hints of liqueur. This is followed by a deep, thorough mineral quality with a fairly chalky feel. On contact with air, slightly more grilled, toasted aromas appear. There are multiple dimensions in the mouth, both dense and concentrated, with a delightful combination of red fruit, black fruit and fresh flowers, accompanied by crystalline and mineral sharpness. Incredible energy and concentration are expressed in the middle of the mouth. Rated 90+ ieWine by Napacabs
A truly succulent and powerful champagne made only in the best years from the finest fruit and top vineyards sites. The impressive palate shows lush, ripe peachy fruit, a rich toastiness and a silky texture with a fine mousse. This elegant champagne is a fantastic food wine, matching lobster, crayfish and scallops to perfection. Presented in the producer
---
Where to Buy Online
Click on the shop name to visit their website and buy this product (cheapest price in red).
(note: Please make sure you double check the product details on the shop's site BEFORE you order the Cristal Louis Roederer 2002 Vintage Champagne Gift and also read our Accuracy of Product Information statement below. )



This product was originally available from but may either be out of stock or no longer available. They may still have a similar product though.

Similar products may also be available from the following websites:


---
Louis Roederer 2005 Cristal Brut Rose Champagne - 750ml
WE 96 Pts - According to Wine Enthusiast - A beautifully balanced wine that exudes elegance as well as richness. It is drier than previous vintages of Cristal Rosé, yielding a bright, crisp and layered wine. Red fruits are married with orange zest and tight acidity. It can be drunk now, but it is a young wine and will certainly age well through 2022.  Winemakers Notes - This wine has a pale pink color, with youthful bluish highlights and fine, regular bubbles. There is an intense, pure Pinot Noir bouquet, offering an explosion of red fruit, with hints of liqueur. This is followed by a deep, thorough mineral quality with a fairly chalky feel. On contact with air, slightly more grilled, toasted aromas appear. There are multiple dimensions in the mouth, both dense and concentrated, with a delightful combination of red fruit, black fruit and fresh flowers, accompanied by crystalline and mineral sharpness. Incredible energy and concentration are expressed in the middle of the mouth. Rated 90+ ieWine by Napacabs
---
---
Accuracy of Product Information
All product features, images, prices and other information published on our website have either been made accessible by suppliers or been gathered from public-domain sources. Advanced System Technologies Ltd. makes every effort to ensure all information on this website is as accurate and up to date as possible. However, Advanced System Technologies Ltd. cannot guarantee the reliability or the accuracy of the information contained within its pages. All the actions taken by the user of the website are the responsibility of the individual.

---
Copyright © 1999,2014 Advanced System Technologies Limited. All Rights Reserved.
All information on this site is presented as a guide. Advanced System Technologies Ltd. accepts no responsibilty for the accuracy of any information contained on the pages within this site.
The CompareStorePrices.co.uk device is a registered trademark of Advanced System Technologies Limited.
All other trademarks and devices are the property of their respective owners.